Maria Sharapova at the Rogers Cup final. (AP)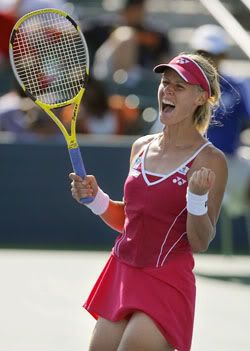 Elena Dementieva jumped when she won the Rogers Cup. (AP)



Roger Federer with his latest collection of trophy from Cincinnati. (Getty)

It was an all Russian affair at the Toronto Rogers Cup. Maria Sharapova has made another significant improvement since her injury as she has made it into the final. Still of course she has able to won the game and the winner is her compatriot four seeded Elena Dementieva. She is someone who has the skills too. The Olympic champion won 6-4, 6-3 in the match to claim her title and took home US$350,000. Even though second in position for Maria Sharapova, she gets US$175,000 and overall she was pleased as it was a good preparation for her for the upcoming US Open.

At Cincinnati, Roger Federer won the new World No. 2 and later on the final. He said it was different to be winning as a father. Roger Federer was considered a classic as he has bounced up from his drop in ranking much faster and stronger than many other players if you realized.

Oh well that's why he is the Tennis Great and till now he has been winning consecutively all the titles this year.