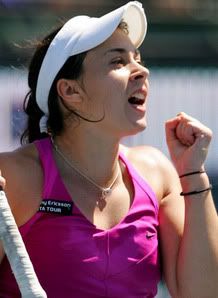 France's Marion Bartoli won the championship match of the Bank of the West Classic. The ranked eight seeded met Venus Williams two years ago and had lost to her in straight sets. At the final she had won Venus 6-2, 5-7, 6-4. To some, Marion had shocked the spectators and Venus as she had played really against against Venus who seems to be the more expected winner of the game after winning Russian giants Maria Sharapova and Elena Dementieva.

It was a no hard feeling game after the match as the players shook hands with each other. Venus Williams said marion was too good at the match and she had a great tournament.

What's next for many are awaiting for will be the US open where top players will be there competing with one another. Over there, it is again another set of matches of tennis giants playing with one another to win the championship.