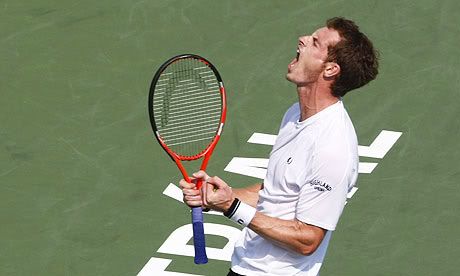 Releasing that moment of joy and sense of achievement, Andy Murray shouts out that he is world no. 2.(Reuters)



One closer shot of Andy Murray exhibiting his happiness through shouting. (AP)

There is the thing about tennis or sports in general, there are always exciting moments that made the event great and spectacular including the players definitely. Andy Murray has made history by becoming the first Briton to be the World No. 2 in tennis. His hard work and skills has pull him through the obstacles and made him claim the title.

This also means Rafael has lost his spot and has become world no. 3. Sometimes in sports you may be good but it is the consistency you have that makes you great sometimes. Injury will cause you to rest and once you rest you are not able to compete therefore loses the points. Classic example is former world no. 1 Maria Sharapova who has dropped to more than 50 in positions.

Andy has also mentioned that he will justify his position as world no. 2 not because of Rafael's injury therefore it probably means, fans, we have more exciting games to watch now.